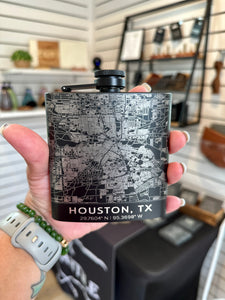 You will receive a Black Matte Stainless Steel Flask and 1 Funnel

The hip flask is made of the best food grade stainless steel, which is safe and hygienic, lead-free welding, safe and durable, to protect your health to the greatest extent.

The pocket flask is compact in size - 4.3 x 3.7 x 0.87 inch, and the thoughtful curvature makes it easy to store into a pocket or backpack.

The 6 oz alcohol flask stores whiskey, bourbon, vodka, gin, tequila, brandy, rum or cognac beverage; perfect gift for any Occasion or Holiday including; Bridal Parties, Graduation, Father's Day, Parties, Sporting Events, Cookouts, the Golf Course, Camping, Road-trips and any other outdoor activities.